Prife International Livestream
Livestream Interviews with Susanna & Oliver Silverhøj from Denmark, Germany stockist and Dr. William S.K Anarfi, CEO Prife International from Ghana Branch
In this interview with the amazing Dr. James Ong, stories and testimonials are shared. Susanna is a Multi-passionate Life Designer, author, speaker, senior lecturer and visionary with a passion and mission to make the world a better place. She has had miraculous experiences using the iTeraCare – going from facing early retirement due to fibromyalgia, EMF sensitivity and possible blindness; to feel more vibrant, healthier and better than in her whole life.
Oliver is a serial entrepreneur, pattern seer, engineer and the Germany Stockist for Prife. After witnessing Susanna's transformation with the iTeraCare he finally gave in and started using it himself, only to find that his winter depression disappeared in 4 days and a semi-chronic exhaustion symptom gave way in 2 weeks – this immediately led him to seek the stockist position. Now they are on a mission to spread the Prife products to the world in co-creation with other passionate beings.
Dr. William S.K Anarfi is a distinguished entrepreneur and visionary leader with an outstanding track record. He serves as the Founder and President of WASK Group, a dynamic consultancy firm, and recently assumed the role of CEO at Prife International, Africa. Dr. Anarfi's influence extends across diverse sectors, including healthcare, waste management, agriculture, transportation, finance, multi level marketing, innovative technology and real estate. Notably, he owns and manages a state-of-the-art general hospital in the heart of Accra, Ghana. His commitment to philanthropy and social impact is exemplified through the WASK Family Foundation and the 10k project. Dr. Anarfi has garnered a plethora of awards and accolades for his contributions to business and society, solidifying his status as an entrepreneurial luminary. He's been featured on numerous magazines including the Network Marketing Times Magazine in USA as a "Master Networker". His unwavering dedication to positive change continues to inspire and elevate communities in Africa and beyond.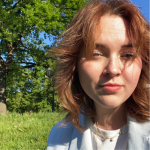 Ellice has been traveling the world with her family since she was 10 years old. She grew up bilingual and has since extended her knowledge and experience with two more languages.
She has been world-schooled most of her life, but that didn't stop her from getting a job in online banking service at just 18. Her experience with visiting more than a couple of dozen countries and working in customer service allows her to apply her great people and cultural skills and her desire to help people.
Now she works as a virtual assistant and backend support on the frequency wonders website.